One of the most common methods for transferring images onto fabric is sublimation. So they print on fabrics for T-shirts (synthetic), for sportswear, bags, backpacks, flags, curtains and other textiles. This is an inexpensive and relatively simple printing method that allows you to make any number of items.
TECHNOLOGY FEATURES
Sublimation printing technology involves the sublimation of dyes when heated. Pigments pass into a gaseous state while penetrating into the textile fibers or deep into another material, a condensation process takes place there, and in this process the treat surface is paint. Sublimation is carried out at a high temperature so that the fabric on which you want to apply the picture heats up and shrinks a little. In this case, the coloring particles are, as it were, solder together with the material being process and become part of it. As a result, the drawings are bright, resistant even to frequent washing and the sun. Sublimation printing technology is use to print on almost any synthetic fabric.
WHAT MATERIALS CAN BE PRINT ON
Synthetic fabrics are the best for sublimation printing. When heated, they become a little loose and absorb ink well. Fabrics woven exclusively from natural fibers do not have such good penetration, therefore mix fabrics with a polyester content of 60% or more are suitable for printing.
Very well suit for the application of images by the satin sublimation method. This is a dense and durable fabric on which the pattern adheres well. Taffeta is often use to make flags. For interior décor, you can dye sublimate on microfiber.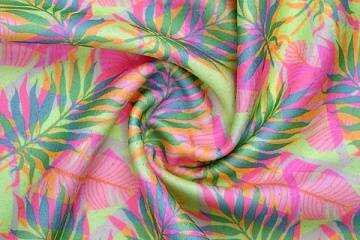 With sublimation transfer, the image is obtain also penetrating to the wrong side. But you can apply images on both sides, for which you need a blackout fabric – dense and not transmitting light.
Sublimation is use for the manufacture of uniforms, souvenirs, corporate products. It can be use to apply designs and texts to fabrics for textiles of almost any shape and texture.
TYPES OF SUBLIMATION PRINTING
This seal can be direct or indirect.
Direct sublimation means the dyes are mix and heated inside the printer. The picture is applied directly to the finish product directly. In the wet method, the surface on which the image will be applied is treat with a primer, and then coat with paint with an inkjet printer. Dry printing is done with a dedicate laser printer.
Indirect sublimation printing is the same as thermal transfer. First, a mirror image is print on special printing paper with silicone, then the paper is press to the surface and the pattern is transfer onto it using a heat press.
EQUIPMENT AND MATERIALS FOR PRINTING
First of all, sublimation printers are required for work. They must have a continuous ink supply system – SPNCH. It is much more convenient than using conventional cartridges. The system can have 4 or 6 colors. 4-color units are easier to maintain, rarely clog and require cleaning. But six-color ones allow you to get a more natural, natural pattern.
Special ink is use for sublimation. They may differ in shades from different manufacturers, so it is necessary to make a test print to be sure of the select gamut.
Sublimation papers are also varied. It can be matte or glossy. Matte is more commonly used for printing on ceramics, and glossy for textiles.
For work, heat-resistant adhesive tape is also used, with which the picture is glued to the surface. It is especially needed for working with surfaces that are complex in shape or texture. Sometimes the most ordinary masking tape is used instead.
For indirect sublimation, a heat press is required.
PROS AND CONS OF THE SUBLIMATION METHOD
The main advantages of this printing method are as follows:
photographic clarity, the ability to apply small drawings, pictures with high resolution, complex graphics, a large number of colors and details;
the text or picture is resistant to fading, fading in the sun, washing;
sublimation printing is possible in any edition – from small to large;
The disadvantages include:
the need to accurately select consumables to obtain a high-quality image as a result of printing;
more suitable for light and plain fabrics;
works best on synthetic materials.
Taking into account all the features, sublimation printing technology is suitable for transferring images to fabrics with a high content of light-colored synthetic fibers. It allows you to quickly print crisp and bright designs on fabrics that withstand negative external influences, remain colorful and readable even after numerous washes or exposure to bright sunlight. The technology involves transferring with special paints when exposed to high temperature and pressure, but without preparing stencils or other auxiliary parts, therefore it is relatively cheap and fast. Printing on dark fabrics with fewer synthetics is also possible, only the colors are darker than the fabric. There is no white color in sublimation, so instead of white, there is the color of the base of the fabric.
SUBLIMATION PRINTING IN Pakistan
We can customize dye sublimation printing on fabric for textile products. We use special printing equipment and dyes. Our production facilities allow us to print large quantities and complete orders quickly. We work from our customers' sketches and also offer assistance in developing or completing designs. We can help you choose a color scheme that makes the drawing look spectacular and natural. For more information, pricing and to place your order, please call us.